A recent New York Times piece on the new US Fish and Wildlife Service Bald and Golden Eagle regulations made the rounds on Twitter last week.  The reception of the new rule among birders and nature bloggers seemed to be negative, but I remain puzzled as to why the birding community would have a problem with the regulations.
As much as we all love eagles, we must bear in mind that the recovery of the Bald Eagle has been an overwhelming success and that the species is once again common across large areas of its breeding range.   Because of this, conflicts between human activity and eagles are on the rise.
When the Bald Eagle was delisted, the Endangered Species Act provisions could no longer be applied (including the provisions that allowed limited "take" or disturbance under the ESA).  The Bald and Golden Eagle Protection Act, which has been on the books since 1940, was left in place, but while this act prohibited disturbance, it provided no permitting mechanism for allowing "takes" for unavoidable disturbance.  This might have been okay when Bald Eagles were truly rare, but it has now become a real problem.  The rule states:
Many actions that are considered likely to incidentally take (harm or harass) eagles under the ESA will also disturb or otherwise take eagles under the Eagle Act. Until now, there was no regulatory mechanism in place under the Eagle Act to permit take of bald or golden eagles comparable to incidental take permits under the ESA. This rule adds a new section at 50 CFR 22.26 to authorize the issuance of permits to take bald eagles and golden eagles on a limited basis. The regulations are applicable to golden eagles as well as bald eagles. We will authorize take of bald or golden eagles only if we determine that the take (1) is compatible with the preservation of the bald eagle and the golden eagle and (2) cannot practicably be avoided. For purposes of these regulations, ''compatible with the preservation of the bald eagle or the golden eagle'' means ''consistent with the goal of stable or increasing breeding populations."

-Federal Register Vol. 74, No. 175 Friday, September 11, 2009. Rules and Regulations. 46837.
It is worth noting that the original USFWS proposal for this rule in 2007, during the Bush administration, interpreted the statutory mandate of "compatible with the preservation of" as being fulfilled by adhering to a national standard of 0.54% or less annual decline in populations.  Thus, the change to a goal of "stable or increasing" populations in the final rule is a significant turnabout for the agency, and one that makes much more sense for the long-term conservation of eagles.
The permitted take of Bald Eagles will initially be capped at 5% of estimated annual productivity, a conservative figure to be sure.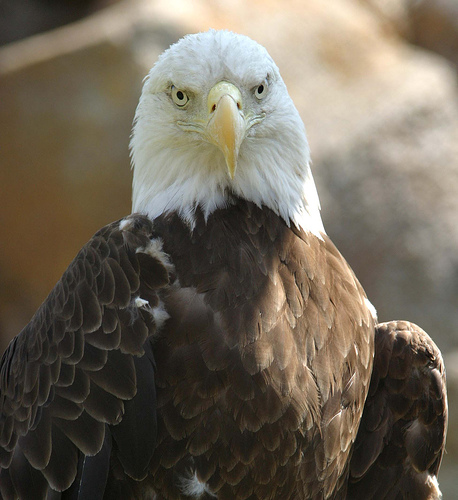 Also, while the Times article pointed out that, unlike Bald Eagle populations, Golden Eagle populations are declining, it failed to mention that permitting under the new rules for Golden Eagles would be very limited, at least initially.
For golden eagles west of 100 degrees West longitude, including in Alaska, we will initially implement this rule only insofar as issuing take permits based on levels of historically authorized take, safety emergencies, and take permits designed to reduce ongoing mortalities and/or disturbance. Future projects seeking programmatic permits would need to minimize their own take of golden eagles to the point that it is unavoidable and also reduce take from another source to completely offset any new take from the new activity….  For golden eagles east of 100 degrees West longitude, we will not issue any take permits unless necessary to alleviate an immediate safety emergency. We do not have enough data on rates of golden eagle mortality in the eastern U.S. to issue programmatic take permits.

-Federal Register Vol. 74, No. 175 Friday, September 11, 2009. Rules and Regulations. 46840.
Additionally, the new rules create a permitting process for the take of active and inactive eagle nests.  Take of an active nest would only be allowed in the rare case of "genuine safety concerns" such as nests at airports, or unstable nest trees that may threaten to fall on a residence.  Inactive nest take permits, however, could be issued "when necessary to ensure public health and safety", or when the nest interferes with the operation of a human-engineered structure (such as a nest built on a crane).  Finally, an inactive nest take permit may be issued when the activity provides a net benefit to eagles or otherwise mitigates the impact of the take.  This provision could allow, for example, an unavoidable take of an inactive nest in an eagle territory, in exchange for the donation of a conservation easement protecting the habitat on the remainder of the territory.
In general, the new regulations seem sound and conservative, a good balance of conservation science and understanding of the growing need to conduct human activities in close proximity to eagles.  If you would like to read all of the details for yourself, you can read the entire 45-page final rule as recorded in the Federal Register.  The new rule goes into effect on November 10, 2009.