As fall migration kicks into full swing, I find myself accumulating bird checklists from various forays into the woods, fields, and marshes.  The sheer magnitude of the fall flights are always fascinating, so I try to get out as much as possible during this time of year.
These days, I seldom go birding without taking detailed field notes that include counting individuals and species at each location.  I religiously submit these records to Cornell's eBird program.  While I admit that I was one of the doubters when eBird was in its infancy many years ago during my undergraduate years at Cornell, I've long since become a big fan of what eBirding adds to my birding experience.  Nate over at The Drinking Bird did a nice job of detailing how eBird makes him a better birder, and I agree with everything he says about the ways that eBird can make local birding far more interesting.  For me, the satisfaction of knowing that my bird observations are being contributed to a massive pool of data that is channeled directly into the Avian Knowledge Network is reward enough.  All of the listing, data viewing, and data manipulation toys that eBird provides are just icing on the cake.
The only problem is that too often, rather than finding their way into my eBird account, my checklists languish for months, or sometimes even years, in the depths of a stack of yellow Rite-in-the-Rain field books.  I simply lack the time to sit down and enter the data regularly.
Good news for me and for all of you other busy birders out there!  I recently checked the eBird news site and noticed a feature article that details some ways to speed up eBird data entry.  These time-saving tips include keyboard shortcuts for using the Jump to Species box so that you needn't scroll up and down the checklist searching for the proper place  in which to enter numbers for a species.  (This is an especially useful hint for those of us who may have never taken the time to read the directions in the first place and have been hunting-and-pecking our way through the checklists with mouse and keyboard).  The Jump to Species box is not quite as cool as a Jump to Conclusions mat, but much more useful.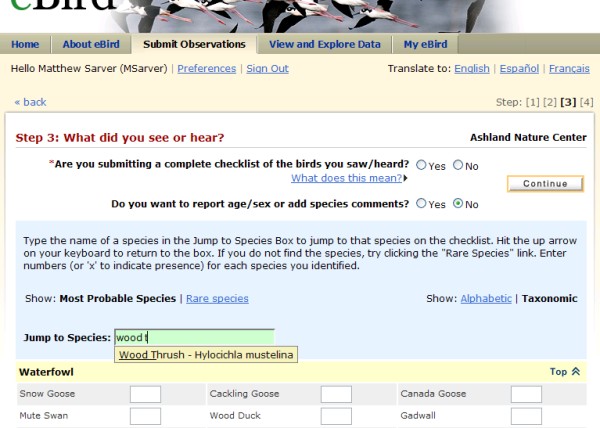 If you've never used eBird, I encourage you to give it a try!  If you're a regular user, check out the aforementioned data entry tips on the news page to increase your efficiency and get more of your sightings into the system!  And be sure to stop by the eBird blog!