Green Lynx Spider (Peucetia viridans)
Family: Oxyopidae
Lynx spiders (family Oxyopidae) are some of my favorites.  They're big, charismatic, and colorful.  The family is a distinctive one with only 3 genera and 18 species in North America.  Lynx spiders have prominent, long, straight spines on the legs, and a characteristic hexagonal arrangement of the eyes (which is somewhat visible in the second image below).
During my recent South Carolina field work, I frequently found the Green Lynx Spider (common throughout the south) on vegetation in open pine savannas and meadows.  These sit-and-wait predators do not spin a web, but use their long forelegs to capture prey items.
Late summer is the mating season for these spiders. Females build egg sacs, which they attach to the plant substrate, sometimes protecting the egg sac by constructing a tied-leaf shelter around it (Willey & Adler 1989). Some, but not all, females guard the egg sac against predation until the young emerge (about 2 weeks). Spiderlings emerge from the egg sacs in autumn and overwinter as early instars, before reaching maturity the following season (at around 300 days).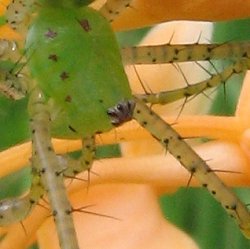 Lynx Spiders feed on both herbivorous insects and pollinating insects, so the benefit to a flowering plant of hosting the spider is unclear, with reductions in herbivory potentially offset by reductions in pollination and fruit set. Some species of Peucetia in the neotropics live and forage exclusively on plants that bear glandular trichomes.  Studies indicate that when prey is scarce, the spiders eat dead insects that adhere to the sticky trichomes.  The presence of the spider reduces rates of herbivory on the host plant without having a significant impact on pollination (Romero et al. 2008).  Thus, the relationship is thought to be a facultative mutualism.  Studies of the Green Lynx Spider, however, indicate that Hymenoptera and Diptera (potential pollinators) are the most frequently consumed prey items (Randall 1982, Willey & Adler 1989), and that the spiders often forage on plant blossoms, so this species may not improve fitness of its host plant.  Indeed, my observations of the species in the field have been primarily on blossoms, where it might be expected that pollinating flies and wasps would be the chief prey.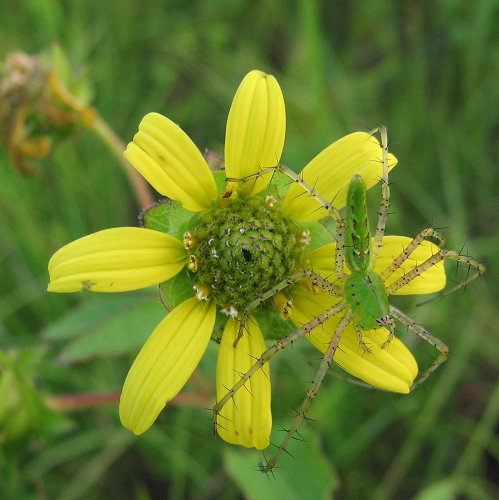 References Cited:
Randall, J.B. 1982. Prey Records of the Green Lynx Spider, Peucetia viridans (Hentz) (Araneae, Oxyopidae). Journal of Arachnology 10(1): 19-22.
Romero, G.Q., J.C. Souza, and J. Vasconcellos-Neto. 2008. Anti-herbivore protection by mutualistic spiders and the role of plant glandular trichomes. Ecology 89(11): 3105-3115.
Willey, M.B. and P.H. Adler. 1989. Biology of Peucetia viridans (Araneae, Oxyopidae) in South Carolina, with Special Reference to Predation and Maternal Care. Journal of Arachnology 17(3): 275-284.