Welcome to the 48th edition of Circus of the Spineless, a blog carnival dedicated to insects, arachnids, molluscs, crustaceans, worms and most anything else that wiggles, crawls or flutters!  As the Circus nears the half-century mark, I feel privileged to be hosting for the first time.  As always, I've learned a lot from this month's excellent submissions, and I hope you will too.  I'm sure you'll agree that nothing compares to invertebrates when it comes to stimulating curiosity and interest in the natural world.  So without further ado, here are the posts, each introduced by a quote or image that I dusted off from the cabinet of scientific curiosity.  Enjoy!
John at Kind of Curious tells us how the arachnid book lung evolved from that of the horseshoe crab.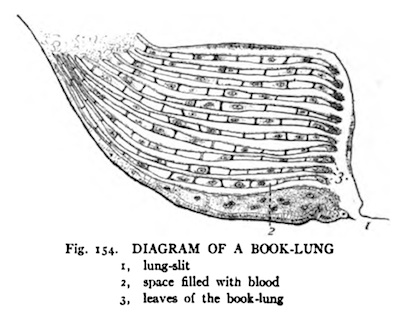 Roberta at Wild About Ants shares some great photos and educates us about the life history of honey pot ants.
There's the question of, why did I pick ants…? Why not butterflies or whatever? And the answer is that they're so abundant, they're easy to find, and they're easy to study, and they're so interesting. They have social habits that differ from one kind of ant to the next. You know, each kind of ant has almost the equivalent of a different human culture. So each species is a wonderful object to study in itself. In fact, I honestly can't… understand why most people don't study ants.

– E.O. Wilson, in Nova's "Lord of the Ants" broadcast
Susannah at Wanderin Weeta embraces the Valentine's Day spirit with a study of Copepods in Love!
Steve at Blue Jay Barrens has been following a population of Edwards' Hairstreak (lycaenid) butterflies for over 20 years and was lucky enough last spring to discover a cluster of pupae being tended by their ant protectors.
The Lycaenidae offer an unusual opportunity to examine how herbivore enemies influence the evolution of larval diet. The association of lycaenid butterflies with ants is generally perceived as a protective measure against larval and pupal enemies, particularly parasitoids, an extremely common aspect of lycaenid life histories….. Six of the 10 subfamilies associate with ants, and to the extent that these groups are natural, there is a notable distinction in generic diversity between vascular plant-feeding groups with and without ants. The two plant-feeding subfamilies of lycaenids associated with ants have diversified to 368 genera, while the three non-ant groups contain only 24 genera….. The Lycaenidae represent nearly 40% of all known butterfly species…yet the ecology of their extraordinary ant relationships is not generally appreciated.

– Peter Atsatt (1981) Lycaenid butterflies and ants: selection for enemy-free space. The American Naturalist 118 (5): 638-654.
Ted at Beetles in the Bush goes after some endemic species and finds that Tiger Beetles Agree—It's Hot in Florida!
Jill at Count your chicken! We're taking over! finds a monster land snail during her trip to Trinidad and Tobago. Fortunately, it doesn't appear to be the invasive Giant African Snail, Achatina fulica, that was recently found in Trinidad.
…[T]he Amerindians of Tobago itself and neighbouring islands had quite different names for Tobago. Two of these have been recorded in the documentary sources. In the 1620s the Spanish writer Vázquez de Espinosa noted that « Tobago is called Urupaina in the Indian language, meaning big snail », adding that the island is « inhabited by Carib Indians, who used to ravage the island of Trinidad » (Espinosa 1942, p. 57). In the mid-seventeenth century Tobago is indeed reported to be inhabited by Amerindians ethnically belonging to the Cariban-speaking Kalina, i.e. Caribs who formerly lived also in North Trinidad and still inhabit parts of the Orinoco Valley and the Guianas (Boomert 1986, p. 14 ; Pelleprat 1965, pp. 36, 83-84). This would suggest that the name Urupaina represents a Cariban word. If so, it may be related to oruape, a generic term documented in 1789 as the Kalina word for « large snail » (Anonymous 1928, p. 221). Consequently, it can conjecturally be suggested that, like the Spanish, the Kalina Indians were struck by the characteristic contour of Tobago, seen from the ocean, which reminded them of the outlines of the large marine gastropods to be found in the Caribbean.

– Arie Boomert (2001) Names for Tobago. Journal de la Société des Américanistes 87: 339-349.
Michelle at Rambling Woods updates us on how this winter's weather may be affecting the overwintering Monarchs.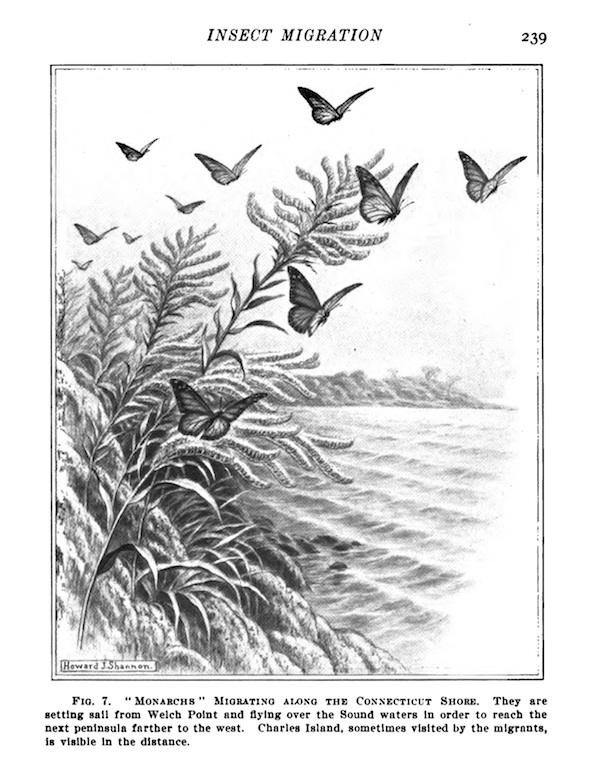 Discover showcases the work of Massachusetts-based photographer and naturalist Samuel Jaffe, who takes stunning pics of caterpillars. The Discover gallery focuses on clever tricks of camouflage and other defensive maneuvers. You can also check out more of Samuel's amazing photos at his Pbase site, by clicking through from the photo below.
David at The Atavism talks about finding a hungry robber fly in his parents' yard.
Winged Highwaymen.  Without a doubt one of the most rapacious creatures is an insect that scarcely knows fear or caution, and that is ever ready to pounce upon a possible victim, no matter what the odds may be.  This most daring highwayman of the insect world is the robber-fly, or Asilus.

-Samuel Francis Aaron, from  "Winged Highwamen", an article appearing in the "Nature and Science for Young Folks" department of St. Nicholas magazine September 1903, pp. 1034-1036.
Zen at Neurodojo wonders if crayfish can feel electricty?
And finally, be sure to check out the Circus of the Spineless site, home to this wonderful Carnival, then head over to Xenogere, and submit your posts to next month's host, Jason!  Thanks for stopping by!

A note on copyright. Unless otherwise noted by a copyright or license attribution, it is my understanding that the artwork reproduced in this post is in the public domain.  The copyright status of the literature quotations may vary, but I share these quotations here in the spirit of scholarly inquiry and scientific understanding.  It is my goal to bring together the art, words, and photos of talented individuals from different times and places in the common enjoyment and appreciation of nature.  I have been careful to attribute each quote to its author, and I realize no financial or commercial gain from the appearance of this material on my web site.  It is my view that this constitutes fair use of the quoted material from each source.  However, if you believe that any quote in this post violates the terms of a copyright that you hold or represent, please notify me and I will remove it.