Stretch….  Yawn….  Is spring here yet?  Just in time for groundhog day, I'm coming out of my recent cyber-hibernation on The Modern Naturalist blog.  What have I been up to during the past couple of months?  I've been busy traveling, spending time with family, and working on some writing projects.  December included an amazing birding trip to Colombia that will be the subject of some photo-laden posts in the very near future!  I also managed to spend some more time in the South Carolina Lowcountry, and even squeezed in a brief run for some prime Snail Kite viewing in the Everglades.  January has been full of reorganization, adapting to my new Mac computing world (yes, I finally took the plunge), and getting to work on several new projects.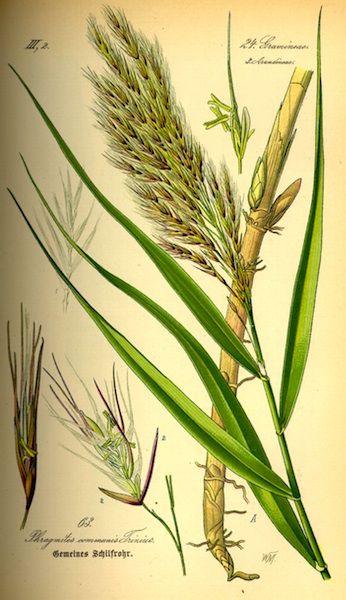 Today I want to share with you a fascinating story from Science Daily on how the invasive reed Phragmites australis manages to suppress other wetland plants by taking advantage of the biochemical activities of native plant roots and native microbes in the soil.  Apparently, "Phrag", as it is known to those of us who are all too familiar with it, releases larger-than-usual amounts of compounds called gallotannins, which are initially harmless.  BUT, when enzymes produced by microbes in the root zone of the soil (as well as by the roots of some native wetland plants) get hold of the gallotannins, they convert them to toxic gallic acid.  The gallic acid actually destroys the structural integrity of plant roots by breaking down the tubulin protein that helps keep the roots rigid.
Unlike many other examples of allelopathy, the chemicals secreted by the invasive Phragmites don't do the damage themselves, but take advantage of enzyme activity already present in the soil of native plant communities!  How fortuitous for the invader!  What isn't known yet is how the invasive strains of Phragmites are themselves able to resist damage from gallic acid present in the soil.  Research like this is revealing that complex underground warfare between plants is much more common (and more fascinating) than we once thought!
The research, conducted by investigators at the University of Delaware, was published in the December 2009 issue of the journal Plant Physiology.  You can download the full PDF here.
For more information on Phragmites, the threats it poses to wetland ecosystems, and its identification and control, check out the Plant Conservation Alliance's Phrag page or download a free copy of my publication, Mistaken Identity?  Invasive Plants and their Native Look-alikes: an Identification Guide for the Mid-Atlantic.