Sarver Ecological, LLC offers planning services to a variety of clients, including agencies, landscape architects, developers, and non-profit organizations.  Matt is experienced in site assessment and biotic inventory, invasive plants, native plant selection, and wildlife habitat design.  His fields of expertise include botany, entomology, ornithology, and herpetology.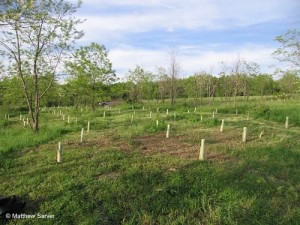 Some of Matt's recent consulting projects have included:
Co-consultant for Revision of the Delaware Wildlife Action Plan
Buffer Management Plans and Habitat Protection Plans for conservation-based community development.
Biotic inventories and ecological assessments for private conservation easement properties.
Native pollinator habitat quality assessments on working farms for the Delaware Department of Agriculture.
Plant community mapping and rare plant surveys for land conservation planning for the Low Country Institute.
Hemlock Woolly Adelgid surveys and management planning for private forest landowners.
To find out if Sarver Ecological is right for your project, please send Matt a message via this contact form.
Please Visit Us on Facebook for the Latest Updates!